#include <WindType3or4UserDefined.h>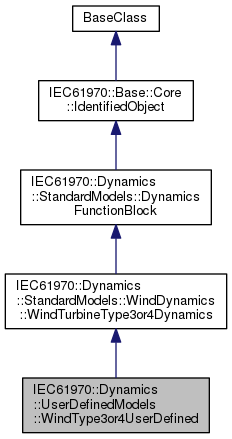 [legend]

[legend]
◆ proprietary
Behaviour is based on proprietary model as opposed to detailed model. true = user-defined model is proprietary with behaviour mutually understood by sending and receiving applications and parameters passed as general attributes false = user-defined model is explicitly defined in terms of control blocks and their input and output signals.
◆ ProprietaryParameterDynamics
Parameter of this proprietary user-defined model.
---
The documentation for this class was generated from the following files:
/home/lukas/acs/gits/CIM/17v07/refactored/IEC61970/Dynamics/UserDefinedModels/WindType3or4UserDefined.h
/home/lukas/acs/gits/CIM/17v07/refactored/IEC61970/Dynamics/UserDefinedModels/WindType3or4UserDefined.cpp