#include <CashierShift.h>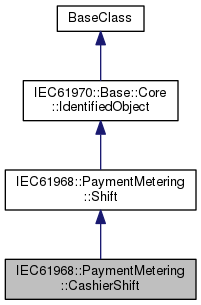 [legend]

[legend]
◆ cashFloat
The amount of cash that the cashier brings to start the shift and that will be taken away at the end of the shift; i.e. the cash float does not get banked.
◆ PointOfSale
Point of sale that is in operation during this shift.
◆ Receipts
All Receipts recorded for this Shift.
◆ Transactions
All transactions recorded during this cashier shift.
---
The documentation for this class was generated from the following files:
IEC61968/PaymentMetering/CashierShift.h
IEC61968/PaymentMetering/CashierShift.cpp